Expensive household appliances can be tricky to move, especially if you plan on performing a DIY move. But with a few tips from professional movers NYC and some preparation you should be ready to move a fridge on your own. Most fridges are costly and buying a new one would mean another investment, so damaging a fridge during the move is not an option. Leaving the job to professionals is always the most convenient solution, but if you prefer to take care of it personally, we've got you covered. Our how to move a refrigerator: a step-by-step guide will help you prepare and move your fridge safely.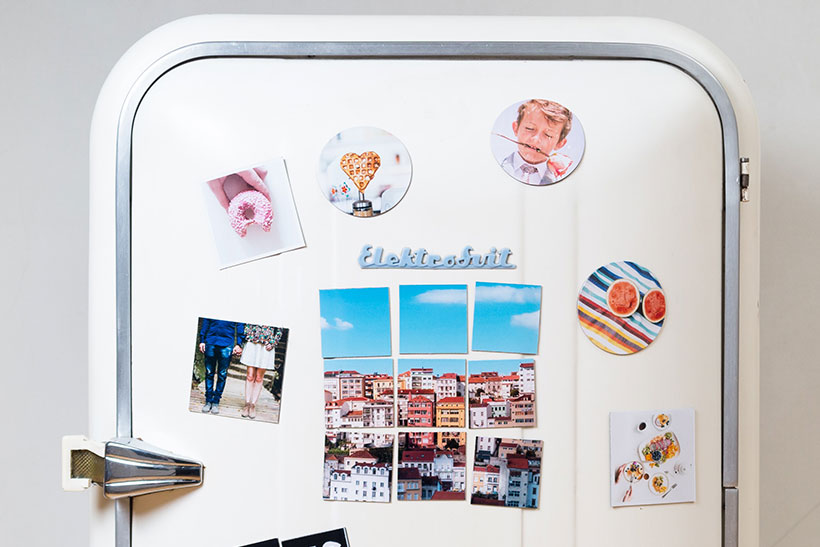 Defrost and clean
The first thing to do before moving the fridge is defrosting it. Defrosting in advance is extremely important, otherwise, leaking can make a lot of mess during transport. Take all the food out of the fridge before you turn it off and get the cooler in case there's food you don't want to waste. You can also avoid this step by planning your meals and not having extra food in the fridge when the moving day comes. Once the fridge is completely empty, mix the baking soda with water and clean all the surfaces with this mixture. Turn off the fridge and check in after a few hours to clean any remaining water from the melting ice. If you want to go the extra mile, add a moisture absorbent inside to prevent unpleasant odor.
Follow the instructions from the manual
After the refrigerator is empty, clean, and disconnected, you can go ahead and prepare it for moving. At this point, you should read the manual to make sure you disconnect it properly. Perhaps instructions will let you remove the doors of the fridge or have other important info about disconnecting. Get a ziplock bag and keep any screws or fridge pieces separated in it with a label. Don't forget to tape the cord to the back of the fridge to make it safer for carrying and use moving blankets or other thick material to wrap the fridge entirely.
Make an exit plan
Planning an exit strategy is always a must when you're moving big household items. That means you should measure all the doorways and passes, as well as your refrigerator, to make sure that you can easily pass through them. Create a plan ahead because you don't want to get stuck last-minute with a fridge that's way too big to fit through the doors.
Have a clear path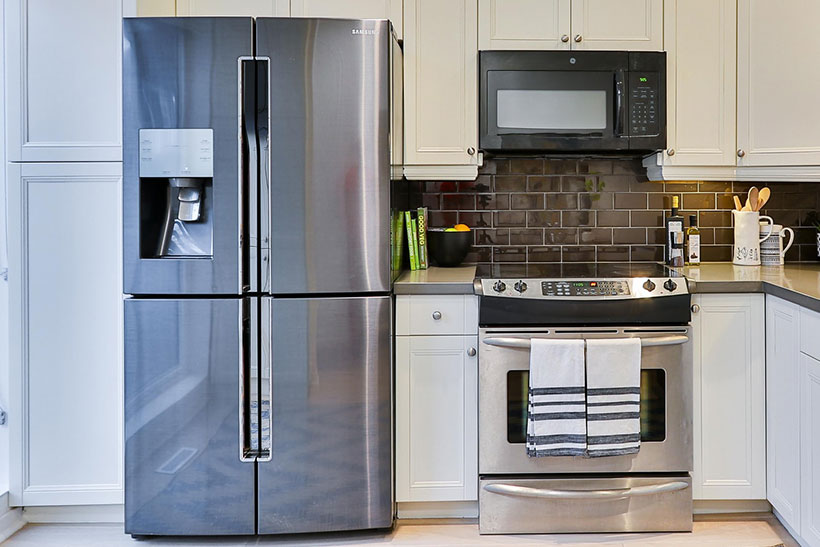 Once you have all the measurements and an exit strategy, you should make sure that there are no obstructions on the way out. If the fridge is too big you may need to remove the doors until you safely take it out. If there's a lot of furniture on the way, you should move it so that you can easily pass from the kitchen to the moving truck. Don't forget to move any other household items or décor pieces that can get in the way and get damaged during this process.
Use a dolly
There's a reason why moving professionals always use a dolly, and you should take their advice when moving heavy household items. A moving dolly will make all the difference when you're moving a fridge and you can rent it from your local moving company. One helper should be enough to help you load the fridge on the dolly – the person helping you can tilt the fridge slightly forward while you slide the dolly underneath. Once the dolly's in place, slowly tilt the fridge back to place it on the dolly, but do go slowly and do this step carefully because the fridge shouldn't be tilted more than 45 degrees. If you have to go down the stairs, avoid pushing the dolly. The best option is to take it one step at a time, pulling the dolly towards you, while your helper should stay at the bottom and navigate the dolly while controlling the 45 degrees angle. Make sure the weight is balanced on the dolly before moving and use straps to secure the fridge to the dolly.
Load the fridge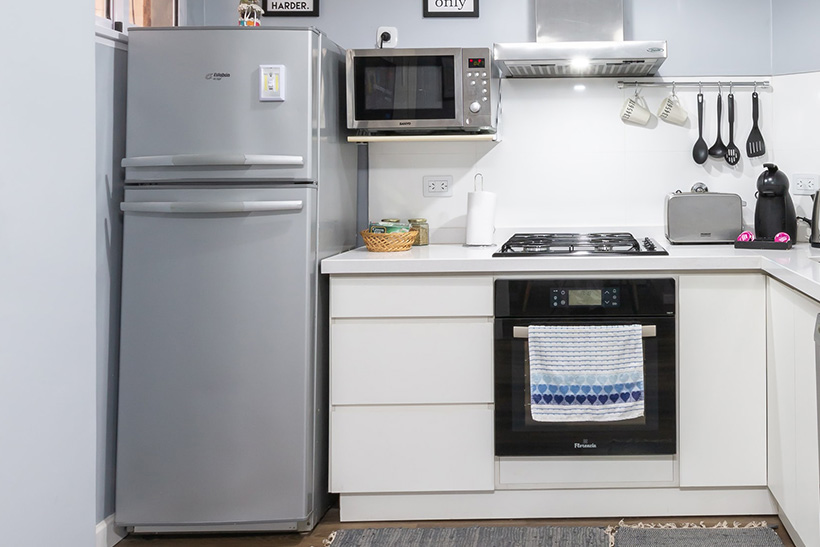 After you successfully take the fridge out of your home, it's time to load it into a moving truck. The safest way to do so is to use a plank that will help you load the fridge without lifting it. If you're renting a truck for your relocation, check if it has a loading ramp because some rental trucks have power-operated ones. But if that's not the case, a plank will also do the trick.
Secure the fridge
Once your fridge is inside the moving truck, make sure to secure it not to fall during transit. The easiest way is to keep it on the dolly and use straps to keep it in place. Leaving the refrigerator on a moving dolly is also a smart move because you'll have to unload it when you arrive at your new address. Never lay a fridge horizontally, always keep it in the upright position by tilting it at a maximum of 45 degrees.
Don't plug in straight away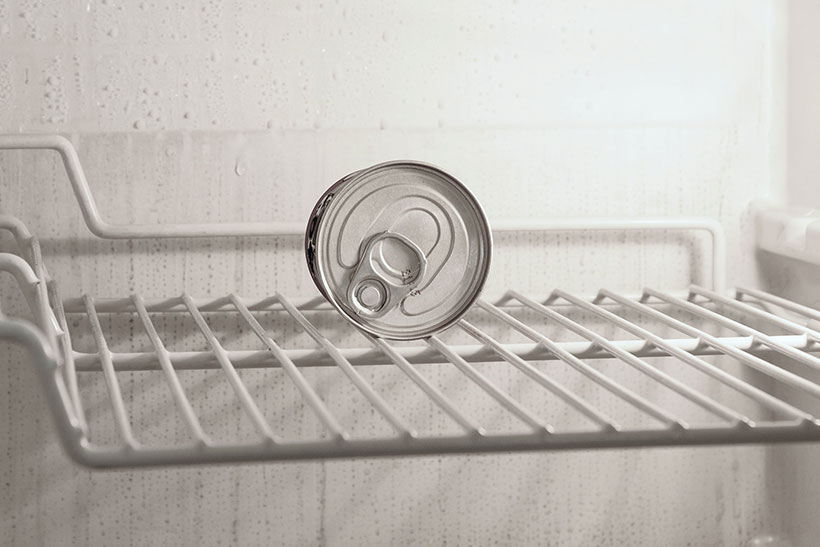 After you move the fridge to your new home, avoid plugging it in straight away. Always give it a few hours before plugging in. In case you have any food left that may get spoiled, find an alternative like a cooler to keep it fresh for a while. Go back to the manual and check what's recommended time for plugging in the fridge again and adding food. Recommended time for adding food usually ranges between 24-72 hours but it can vary depending on the model.
Remember that you can always hire professional movers that have the experience and tools necessary to move any large appliances including your fridge. If you're looking for a trustworthy moving company to assist with your upcoming relocation, contact Movit Movit and get a free moving quote.