Packing is probably the most time-consuming part of your relocation and it comes with an extra challenge when securing fragile items for a move. Glass is notoriously frustrating to move because you have to put a serious amount of care and skill to pack, load, and transport it safely to a new address. Since it's so easy to break, glass requires preparation and proper packing method. Glass jars are one of the most frequently moved glass items and they require no less effort than other breakables. Luckily, with some caution and a few tips from professional movers, you too can pack and move your glass jars like a pro. Read on to learn how to pack jars for relocation and have them arrive safely at your new home.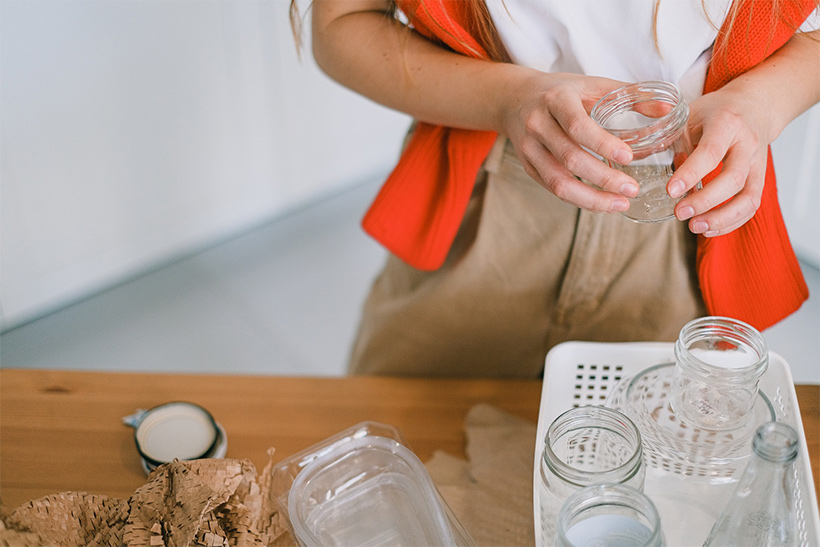 Gather packing supplies
The first stop on your way to a successful relocation is at your local home improvement store, as any should have various moving containers for sale. You can also purchase moving boxes online but you can also find them for free in your local grocery store, liquor store, or book store. While finding free used boxes is certainly beneficial to your budget and makes your move greener, you should be cautious and only choose sturdy boxes that are in great shape. The reason is that jars can get rather heavy so using a container in poor condition is likely to lead to breaking the box and its content as a result. The best option here is to use plastic containers – they're sturdy and durable so they'll hold any weight without issues, plus, they're made of recycled plastic and you can rent them which makes a great eco-friendly alternative to regular cardboard moving boxes.
Note that your heavy-duty boxes should have dividers inside them, which will help jars stay separated and not scratch each other. Then, you should get plenty of bubble wrap because the air-filled pockets are the best material for absorbing accidental hits and keeping your items safe. Packing paper is an addition to that, whose purpose is to protect sensitive surfaces like glass from scratches. Your next packing supply is packing tape and you'll use it to secure everything in place as well as to seal the box after it's packed. The last item on this list is a sharpie marker, which you'll use to label each box with fragile content, or you can go for printed labels instead.
Secure and cushion containers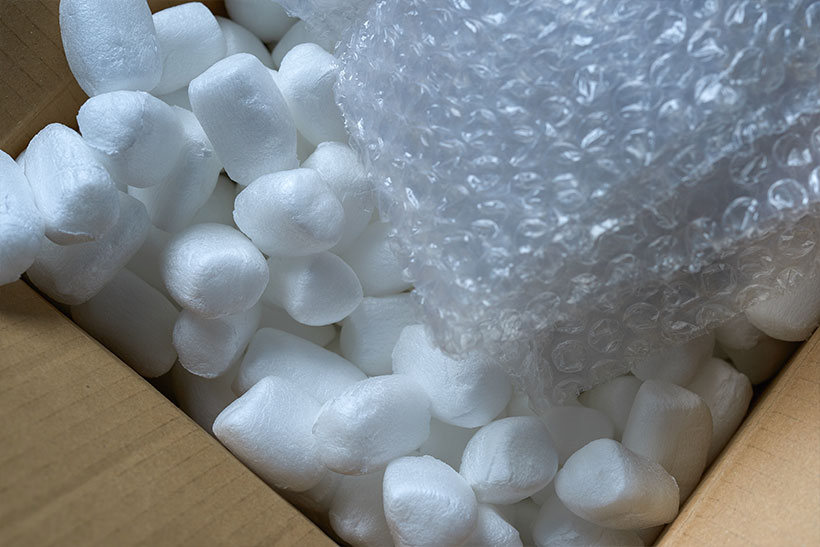 Once all the necessary supplies are gathered, you can go ahead and prepare your jars for packing. You will first want to reinforce boxes with packing tape if needed by sealing any seams – this will keep the box closed and prevent it from opening during moving. The next step is to use bubble wrap and create padding at the bottom of the box – this is the first layer of protection. You can use alternatives you have in your home if you don't have enough bubble wrap, such as linens, towels, t-shirts, or any other soft fabric you have on hand, as long as it helps you create a soft base for placing your jars on. Don't choose packing paper to create cushioning simply because glass jars are too heavy and they will quickly crush the lightweight paper.
Prepare jars
Now that you have all the containers reinforced and cushioned, you can move on and prepare jars for packing. This step is pretty simple – you'll want to use packing paper and wrap each jar individually. This first layer of protection should be followed by the second one, which is bubble wrap. This may seem excessive but it is the best way to pack glass jars and get optimum results. After you wrap the entire jar with bubble wrap you should use packing tape to make sure protective materials will stay in place. Alternatively, you can use old newspapers for this purpose and repeat the same procedure you would stick to when using professional packing materials.
Pack the jars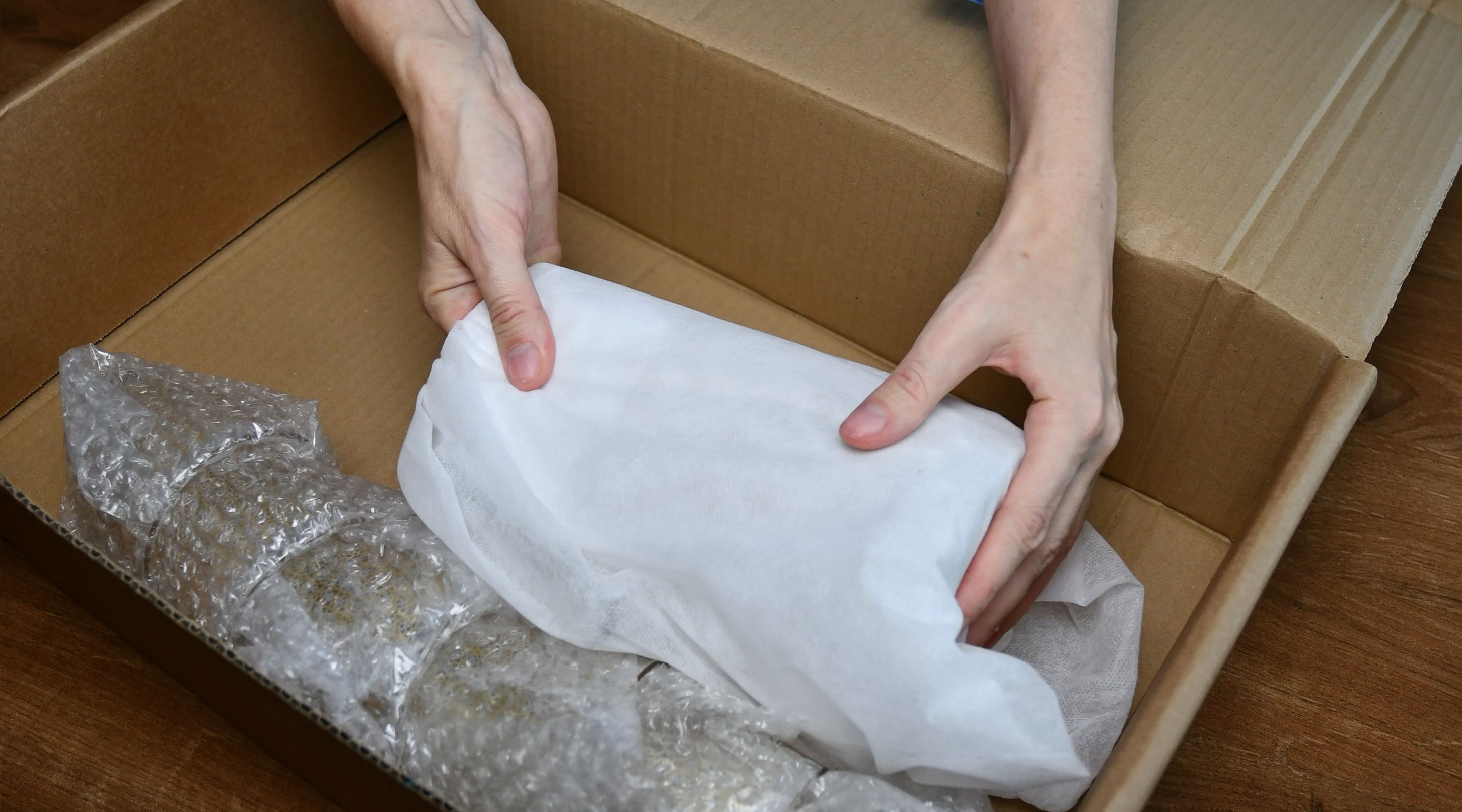 Your next step is to place each jar carefully into a designated container, making sure you place it vertically. You will then want to insert dividers to avoid jars shifting and knocking against each other in transit. Some boxes are designated specifically for this purpose and they have dividers already inserted, in which case you'll just place the jars inside. After this is done, you'll notice some empty spaces inside the box and you'll want to fill them up entirely with packing paper, again, to avoid shifting. The most important thing to remember here is that glass jars can get extremely heavy so you never want to pack too many of them together – not only this can cause the box to break but lifting something too heavy can also lead to back injuries.
Label
That's it, you've made it, now you only have to label each box. You can do so by using a bright-colored sharpie marker and writing "fragile" on at least two sides of the box. You can also use printed labels if that's easier for you. Don't forget that you'll also need to draw arrows pointing upwards to indicate the correct direction of keeping boxes with fragile content. This is an essential step when it comes to moving jars because everyone involved will be able to see that specific boxes need careful handling and you won't have to worry about jars breaking due to human error. In case you have a professional crew helping you, also let them know verbally that certain boxes have breakables in them. When it comes to loading, pay attention that boxes with glass jars are placed on top of everything else because you don't want anything heavy to potentially crush them so it's a good idea to pack these boxes last.
If you'd rather let professional movers handle your entire relocation, go ahead and reach out to us. Movit Movit is at your service – contact us and receive a free moving quote.