Cleaning the bathroom before the move might seem like a headache, but proper organizing can make it as easy as pie. Knowing the most efficient way of cleaning the tricky spots and having a well-planned strategy will transform your bathroom from messy to impeccable in a short time.
Follow our instructions for the easiest cleaning-bathroom situation ever!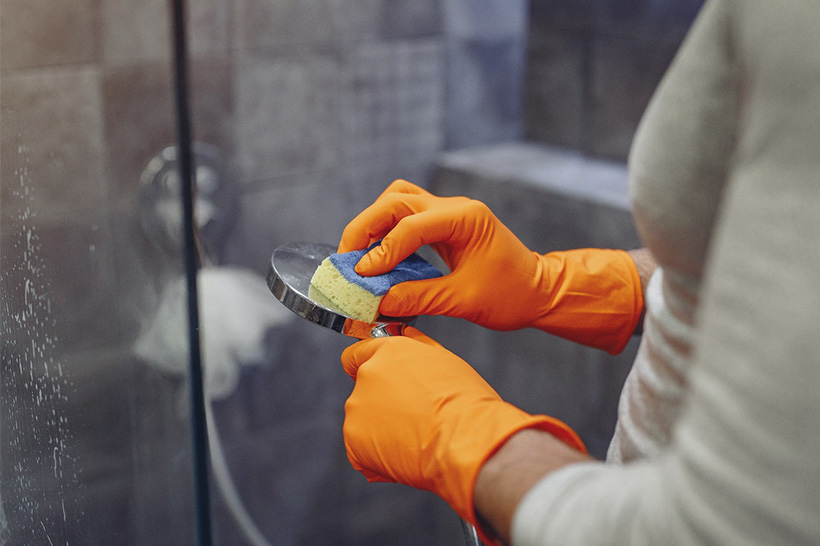 Get the cleaning supplies and products
You don't want to get interrupted by some missing stuff once you've started the job, right? To avoid that frustrating situation, make sure that you prepared everything you might need in front.
Here's a list of cleaning equipment you'll need:
•

Rubber gloves

•

Microfiber

•

Toilet brush

•

Grout brush

•

Mop + bucket

•

Sponge

•

Duster

•

All-purpose cleaner

•

Disinfection cleaner

•

Glass cleaner

•

Rubber gloves
Clean Top to Bottom
This is the most efficient way of cleaning because it prevents already cleaned areas from accidentally getting dirty again. It means the floor is the last thing to scrub, considering how many times you'll walk over it during the cleaning process.
Dry cleaning before wet cleaning
It also makes sense, it's easier to remove dust and some dirt while it's dry, or it will smudge around when gets wet and force you to spend more time cleaning it.
Use a duster with a long handle and microfiber cloth for the top level, including the lights, shelves, cabinets, baseboards, pipes, and the outside of the toilet. Make sure you check the corners too and remove cobwebs. Following the from-top-to-bottom rule, use a broom or vacuum for the floor, and remove all hair and other waste matter that have accumulated down there.
Get all surfaces clean of dust before using bathroom chemicals and rinsing.
Clean tiles and grouts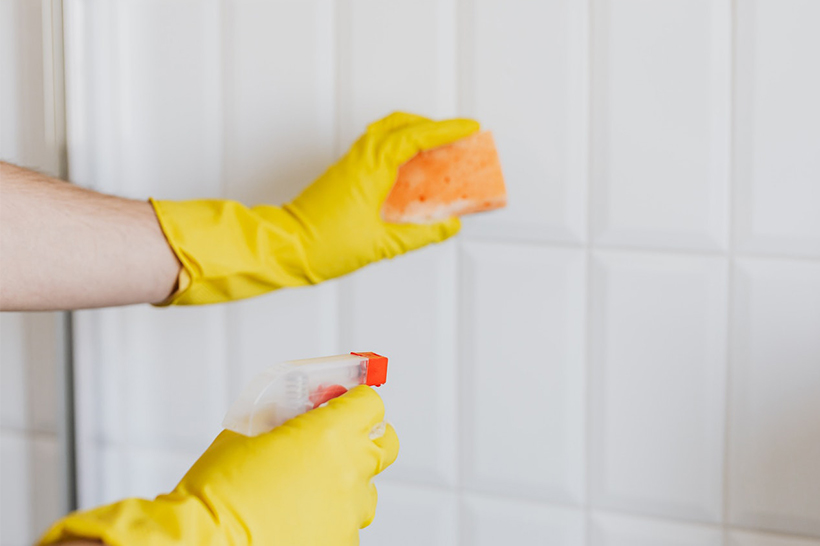 You can apply an all-purpose cleaner to tiles and let it sit there until you clean something else. After at least 15 minutes, use a grout brush and rub where needed. Rinse, wipe, and repeat if it's necessary.
There are a few tricks how to get rid of bathroom mold or stubborn stains:
•

Bleach (1 part of bleach, 2 parts of water)

•

Vinegar and baking soda (beware that this combination makes a fizzy but very effective chemical reaction)

•

Borax (1 cup of borax, 1 gallon water)

•

3-percent Hydrogen peroxide
You can use these products on the sink, toilet, bathtub, shower, or tiles.
Clean soap dispensers and containers, towel bars or hooks, …
Treat soap dispensers and other containers with the all-purpose cleaner, and rinse them thoroughly. Remove soap buildups or other stains with a scrub brush if it's necessary. Wipe towel bars or hooks as well. After cleaning and rinsing, wipe all with a dry cloth.
Clean the mirrors, glasses, and shower doors / curtains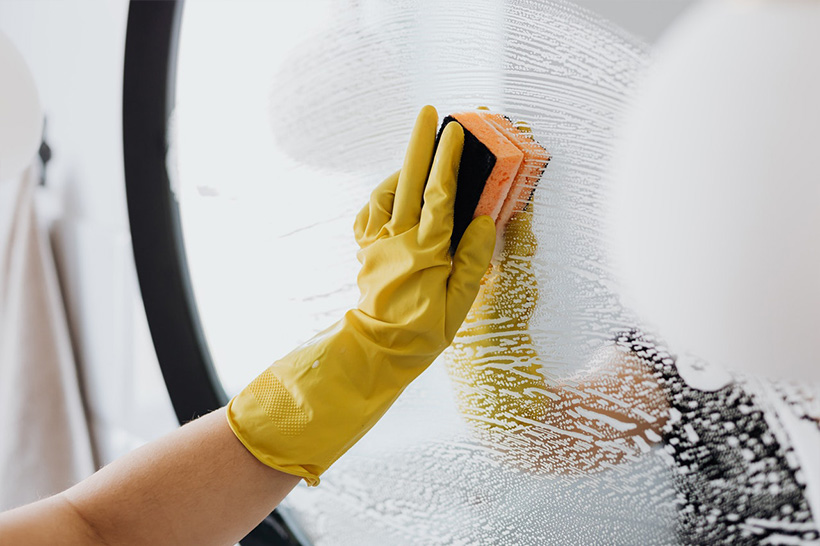 Apply glass cleaner on the mirrors, windows, and shower door if there's one. Depending on the cleaner product you use, or the surface, rinse or wipe it down after at least 10 minutes. Open the window to avoid condensation of the mirror or window glass. You might need to use a dry rag more than once until they get spotless.
Gently rub the shower curtains with a brush or sponge, then rinse and wipe with a dry cloth. If the curtains are moldy, try vinegar and baking soda before brushing. Wiping with a dry cloth after cleaning will prevent any potential water stamps.
Clean the sink and bath tub / shower cabin
Spray all-purpose cleaner on the sink, taps, bath, or shower cabin bottom, and let it sit for a while. If there's soap buildup somewhere, use a scrub or scrubby sponge first. Stubborn spots and stains might require more than one treatment with the all-purpose cleaner, or vinegar and baking soda.
Clean the sink or tub from the outer edges to the drain. Use a small brush around the drainer and drain plug. Rinse with a lot of water to remove all dirt and cleaning products.
Clean the taps and bathtub or shower with the all-purpose cleaner and a small scrub brush, and use glass cleaner to wipe down the taps for a shining finish.
Soak a showerhead in diluted white vinegar. After a while, sprinkle baking soda over it and let the foam break down the water deposits. Repeat if there are still some clogged holes, and let the foam sits a bit longer before rinsing it.
Clean the toilet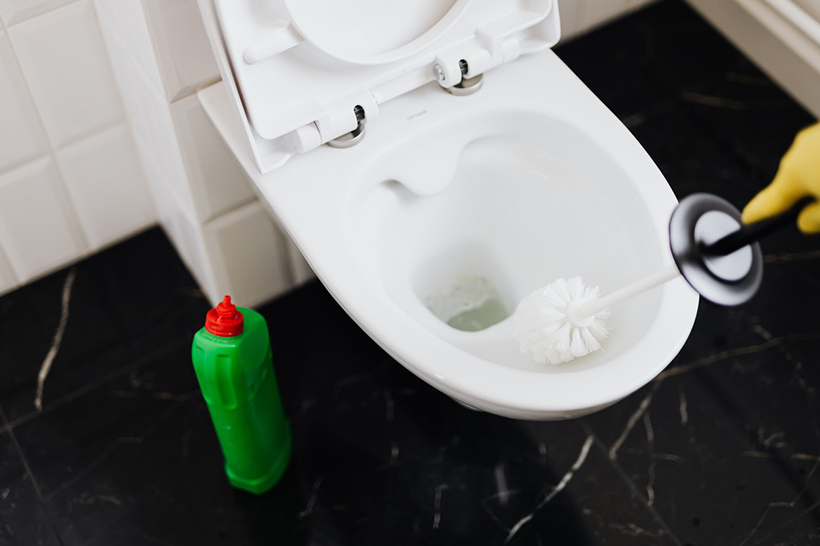 The toilet is the only place in the bathroom where we should always use disinfection cleaner. Start with the outside of the toilet. Apply the cleaner and start rubbing from top to down. When you finish the outside, open the toilet and spray the cleaner inside it. Make sure you catch all the edges and hard-to-reach parts. Spray the top and the bottom of the seat as well. Use the toilet brush and thoroughly scrub all inside parts. When you're done, close the toilet, flush, and rinse the outside. Closing the toilet before flushing will prevent any remaining living bacteria, such as E. coli or salmonella, to spread around. Make sure you remove all of the cleaning products remains. In the end, wipe the outside of the toilet with a clean, dry rag.
Inspect
Check one more time if everything in the bathroom is wiped properly with a dry cloth. Use a microfiber rag for any water drops left behind. You don't want any ugly water stains to spoil your amazing job.
Mop the floor
Most of the bathroom floors are covered with tiles and that makes the job easier. Prepare a mop, and fill a bucket with warm water and a proper amount of all-purpose cleaner, following the instructions. Soak the mop, squeeze it out, and clean the bathroom floor. Don't forget the area behind the toilet. Repeat until the floor is sparkly clean.
The more you keep your bathroom clean on a daily, weekly, or monthly basis, the less you'll have to do when it comes to deep cleaning. If you follow the steps mentioned above, it doesn't have to be difficult and time-consuming as it usually is. Happy cleaning!
Hire Professional Movers
Bathroom cleaning before the move is an important part of moving preparations. First, leaving your mess to upcoming tenants, especially in a bathroom, is just rude. Second, your landlord could make an issue about it. We suppose it's not something you'd like to deal with in the middle of moving.
After you have finished cleaning your bathroom, you may proceed with completing other moving tasks. One of those tasks should be hiring professional movers to assist you with your relocations. If you're looking for reliable NYC movers, contact Movit Movit. We'll provide a free moving quote and all the help you need to relocate without problems.