Can the ever-daunting task of packing be easy and stress-free? Is it possible to pack like a pro? Wouldn't be great to find ways to pack smart and spare you the trouble of broken perfume bottles, tangled necklaces, wrinkled jackets, and spilled shampoos? No worries, we've got your back! We've listed down some of the top smart packing hacks to help you change the way you pack and make your life easier.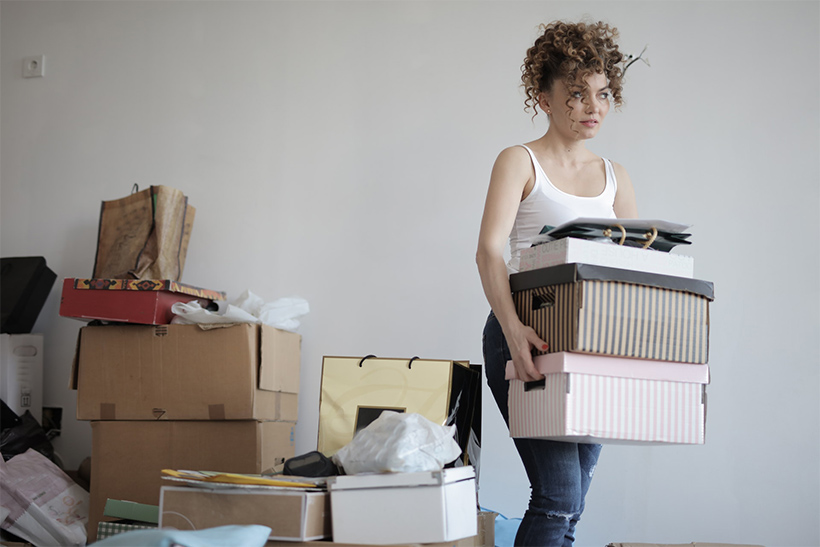 Packing and compression cubes
The first smart packing hack has to do with saving space, which is often the main concern when getting ready to travel or move house. Packing space is always somewhat limited but luckily, packing and compression cubes will help you greatly with this. Basically, you'll pack your items, and then you'll be able to compress each bag, saving an incredible amount of space. Furthermore, you can separate your items by category and only take out one bag, without messing with the rest of your things.
Shower caps for footwear
Packing your shoes can be annoying since you have to pack them with your clothes but you don't want some of the dirt to get to them. Plus, you also don't want to use a shoebox since it takes up so much precious space. The smart hack here is to use shower caps on your shoes – you'll save space while keeping the rest of the suitcase content away from the dirt.
Stuff your shoes
Another smart packing hack related to footwear is to stuff them with socks you'll be wearing and save some extra space. This may seem like a small thing but can turn out to be really helpful if your luggage is really tiny. Alternatively, you can stuff your shoes with any other item you plan to pack that's small enough to fit inside.
Straws
Jewelry and especially necklaces are notoriously annoying to pack since they always get tangled. An easy packing hack is to use straws and thread your necklaces through them. Once you close the necklaces, they won't be able to tangle and you'll save space by not using jewelry boxes.
Medicine containers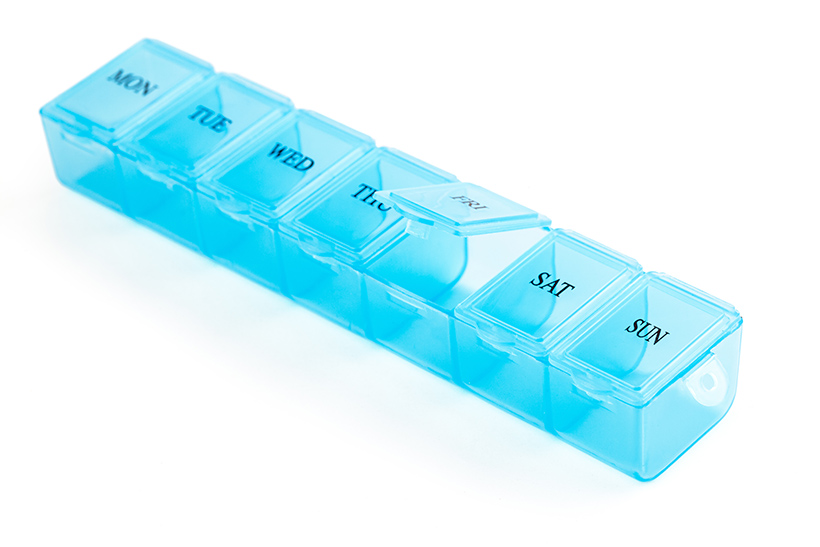 Another smart way to pack your jewelry if you don't like the idea of using straws is to use medicine containers instead. Thanks to different compartments, you'll be able to pack each jewelry piece individually without sacrificing too much space.
Office binder clips
The next smart packing hack has to do with annoying earphones – it just seems impossible to keep them untangled. But you can simply use office binder clips and wrap your earphones around them and you have your tangle-free solution.
Stretch wrap
This happens way too often− you close your shampoo but it still somehow ends up all over the things you packed in your suitcase. Prevent this easily, just use stretch wrap to cover the entire bottle and you'll never have to worry about toiletries spilling on your clothes.
Cotton swabs
Another annoying thing that happens frequently during travel is broken makeup – you pack nicely only to find your expensive blush gone to pieces and made everything inside the suitcase pink. Easy prevention is to use a cotton swab and place it inside your compact cosmetic.
Pack inside-out
Before you pack your clothes, go ahead and turn them inside out. This is especially handy for your special or expensive pieces since it will keep things from getting too wrinkled.
Leave some space empty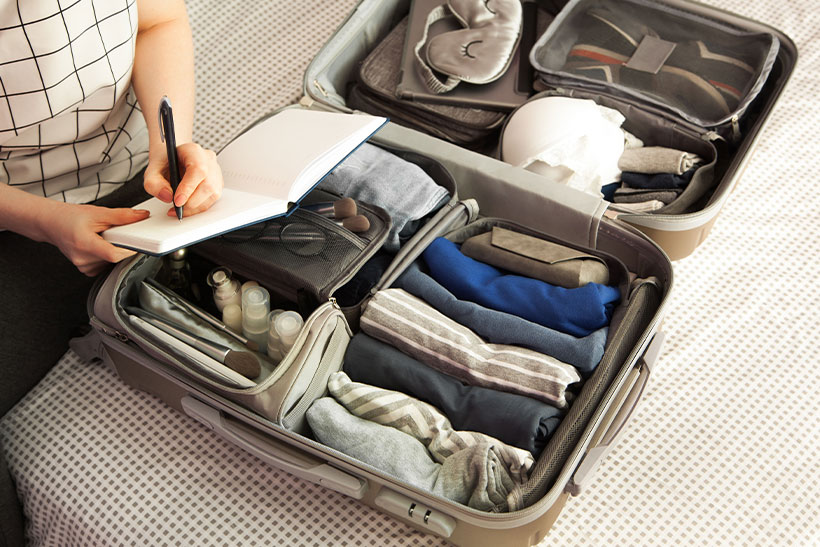 This tip is helpful in case you're packing for vacation – we all have trouble finding space in our suitcases after getting some cute souvenirs or local items from where we visited. To prevent you from having to leave some items behind and pack new things for your trip back home, leave some of the space in your suitcase empty while you're packing for vacation and plan some luggage space for souvenirs.
Rolling technique
To pack as much stuff as possible, skip regular folding and try the rolling technique instead. You'll simply want to roll each piece of clothes as tight as possible and save so much space in your suitcase.
Personal items
Whether you're packing for vacation or you're about to move house, you'll want to bring some personal items with you. Your documents and any valuable items should always be on you, so pack them in your hand luggage and heave peace of mind knowing that nothing will happen to your precious possessions.
Adapters
If you're traveling or moving overseas, check which kind of power outlets the country is using. You will probably need to get an adapter so you could charge your phone and computer so pack one in advance to avoid the stress of being disconnected and looking around to buy a universal adapter.
Charging station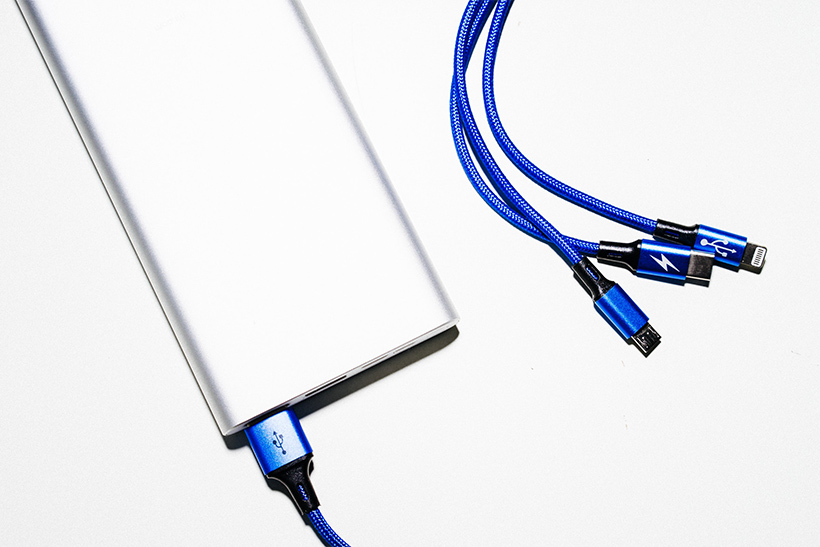 Another smart hack that has to do with your electronics is to get a universal charging station. This is always useful when packing for travel, especially if you have several gadgets you're taking on your trip. A universal charging station is also handy when you're traveling with your family since all of the family members can charge their phones and not argue about who is going to use the charger first.
Pack travel-size toiletries
We all love to buy the biggest bottle of our favorite shampoo or shower gel but the trouble comes when you have to pack this bulky thing into your limited suitcase space. Luckily, a simple packing hack will solve this – purchase travel containers and fill them up with your products. You can also buy travel-size cosmetics, which is another great way to save space when packing.
Scan documents
While packing your personal documents, go ahead and scan or take pictures of each document you're packing. This hack will hopefully not be needed but it will be extremely helpful in case anything goes wrong and you end up without having your documents on you.
We hope our smart moving hacks will help you to pack and move easily. Hiring professionals would make it even easier. So, if you need help with your upcoming move, contact Movit Movit and get a free moving quote.