The moving process is notoriously stressful but some tips from professional movers and a few simple hacks can make it way easier. To make your move dead simple, follow our smart moving hacks.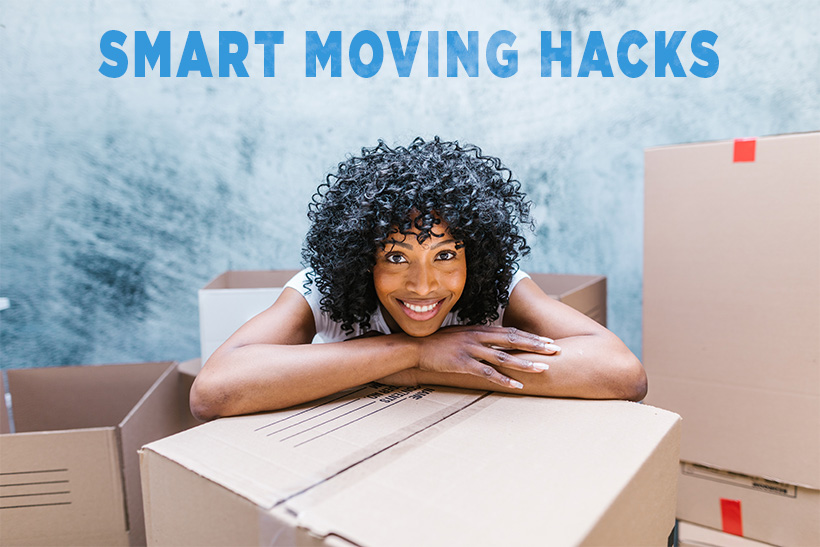 Use packing calculator
The first hack has to do with the packing process and getting packing supplies. To avoid getting too much or not enough materials, go ahead and use a handy packing calculator to help you figure out how much exactly you will need. It will save you money plus the trouble of making multiple trips to the store.
Meal plan
The next smart hack when moving is to use as much food as you can by making a meal plan. To do so, list all the food supplies you have in your fridge and pantry and see which meals could be made using what you have on hand. You can be creative and invent new recipes – the main goal is to avoid waste and eat up before you move. Of course, if you have canned food left you can bring it with you or donate it to one of your local food banks.
Downsize
A simple tip to help you declutter and get rid of unnecessary things is to think if you would purchase a specific item again. If the answer is "no", then it's pretty clear that you should leave that item behind.
Arrange pick-up in advance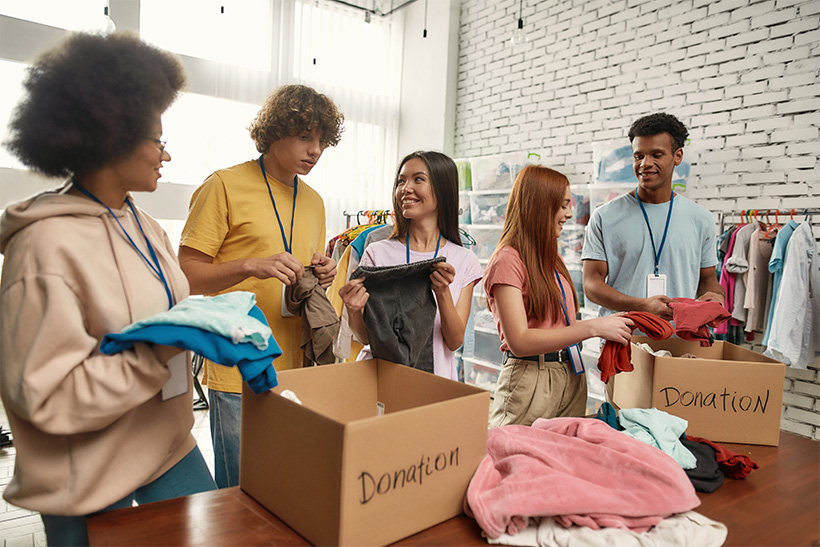 After you have those unwanted things separated, you can donate them to a local charity. But don't forget that this additional task can make your move even more complicated so avoid it by making donation pick-up arrangements ahead.
Consider renting short term storage
If you have more things than you can currently accommodate but you don't want to sell or donate them, consider renting a short-term storage unit. You'll be able to keep your things safe until you figure out what to do with them next.
Get various quotes
You should always get moving quotes from at least three different movers. This helps you compare moving rates and find the best price for your move. You can even try to negotiate a better deal or find other ways to cut expenses. Getting quotes may be a bit time-consuming since movers have to visit your home in order to give you a quote but it is definitely worth it considering that it will help you save money by finding the most affordable option.
Free boxes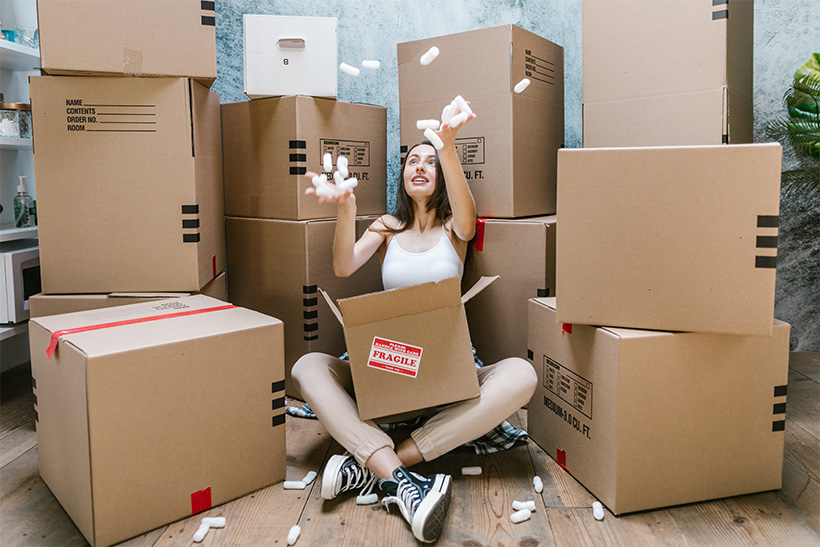 Here's one of our favorite moving hacks – you don't have to spend money on moving boxes but find them for free instead. Check out your local grocery store, liquor store, book store, or other local retailers to ask if they have spare boxes to give to you.
Opt for mid-week
Another smart hack to save money when moving is to be flexible and go for mid-week and even mid-day moves. The beginning of the month is usually the most expensive time to move and weekends are certainly to be avoided considering the number of people moving during that time.
Leave drawers full
Another moving pack to make your move easier is to leave things inside drawers instead of emptying them. If the furniture piece is not too heavy, just wrap it with drawers still inside using plastic wrap so you would make sure everything is secured in place and wouldn't fall out. Alternatively, if the dresser is too heavy, take the drawers out but keep them full and wrap them individually with plastic wrap.
Leave clothes on the hanger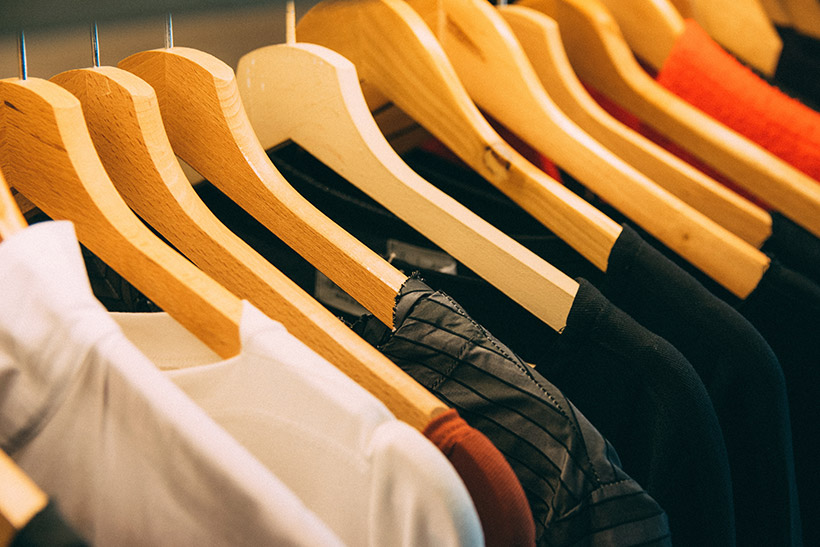 This hack makes it so much easier to pack – leave clothes on hangers and tie five or six hangers together. Place garbage bags over them so they wouldn't get damaged while moving.
Use soft goods for packing
When you're packing fragile and breakable items, use your towels, linens, and other soft goods to wrap them. Use dish towels for sharp kitchen items like knives and then secure them in place with rubber bands.
Use large containers for small items
Another space-saving moving hack is using everything in your household as a container – use your larger pots to place tiny gadgets inside, use your pots to pack small kitchen items inside, etc.
Plastic wrap for lids
To avoid spilling from shampoo bottles or other similar items, use a tiny bit of plastic wrap and wrap it around the lid. It's super easy but it will keep your products from pouring over other belongings.
Use suitcase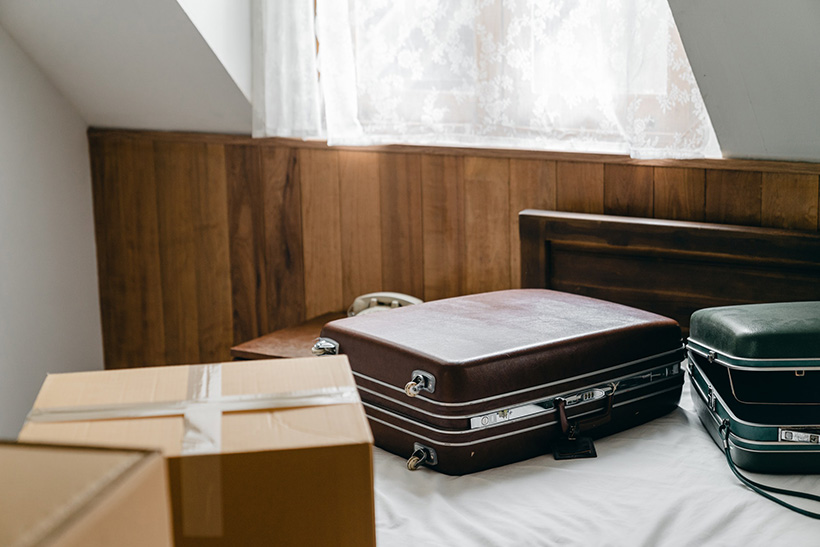 To save even more space, skip a few moving boxes and use your suitcases, duffle bags, and similar bags to pack things that are too heavy to move, such as books or heavy serving dishes.
Color code boxes
Another smart moving hack is to use different colored stickers to label boxes by color. Each room should have its designated color that will be used to label the box with items belonging to that room.
Take a picture of the back of your electronics
It may seem simple but you may easily find yourself confused once you reach your new home and have to set up your electronics. To avoid confusion and mixed cables, just take a picture of the back of your TV, stereo, or anything else that requires setting up.
Have an essentials box
Before you pack the rest of the household, make sure you put together an essentials box. It should serve as your "survival kit in case you have to wait for a couple of days before your belongings arrive. Pack some basic toiletries, clean bedding, a fresh change of clothes, medications, a few snacks, and anything else you may need for a day or two at your new home.
Smart moving hacks are all about making the moving process less stressful and more efficient. Hopefully, our simple tips will help you have a stress-free relocation and move with ease. If you'd rather let professional movers handle all the packing and moving for you, go ahead and reach out to us. Movit Movit is at your service – contact us to receive a free moving quote.