When you're moving house, you should use all the professional tools out there to make the process safer and easier. Instead of lifting heavy weight and risking and damages or injuries, opt for a variety of moving equipment that's readily available – you'll find most of these items for rent at your local moving company. Arguably the most important mover's piece of equipment is a moving dolly. There's such a variety of moving dollies on the market that you'll definitely be able to find just the right type for your move. To only name a few, collapsible dolly, a four-wheel cart dolly, a large or small dolly cart are available. Any type of dolly you decide to go for will come with wheels helping you to push the weight instead of breaking your back. In some cases, an all-purpose dolly will do just fine, while other times you'll want to go for a furniture or appliance dolly. Professional moving equipment is highly beneficial, just make sure you learn how to use it correctly in order to stay safe and make the best out of it. If you're wondering about whether there's a downside of these platforms on wheels, they won't be able to help you take things down the stairs. As always, professional moving services are the most convenient way to relocate as they'll take care of your entire move but in case you decide to go for a DIY option instead, check out simple tips on using a moving dolly.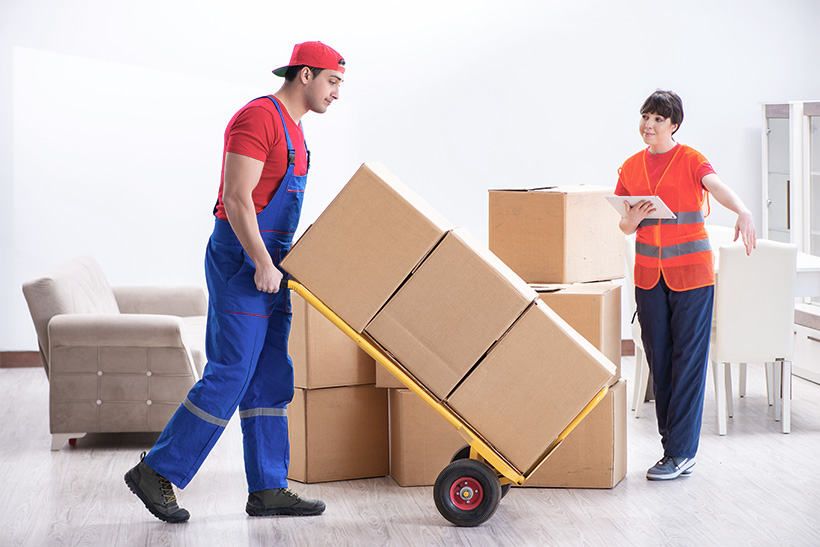 Safety first
While making your move as simple as possible, remember that safety always comes first. You must take several measures of precaution to avoid injuries and keep yourself and everyone else involved safe. These are some of the important things to follow in order to use a moving dolly properly:
Clear exit path
You have to make sure that you're able to pass through the doors with a dolly, all the way from starting point to the moving truck. You don't want to trip over anything, so clear an exit path from any obstacles, such as furniture pieces, home décor, leaves on the patio, etc.
Don't obstruct the view
After you've cleared the pathway and there's a safe passage, check if you're able to see in front of you properly. That means you shouldn't overpack and obstruct the view otherwise, you're at great risk of damages and injuries. The ideal scenario is to actually have one person navigating the dolly while another person is pushing from the back side
Use moving straps
Securing your cargo in place is a must for both your and your item's protection. If you skip this step, boxes may fall off the dolly and get damaged and, even worse, fall on your feet and cause great injuries. Another reason to use straps is to keep cargo in place inside your moving truck – it will prevent shifting and falling down in transit.
Tie up loose pieces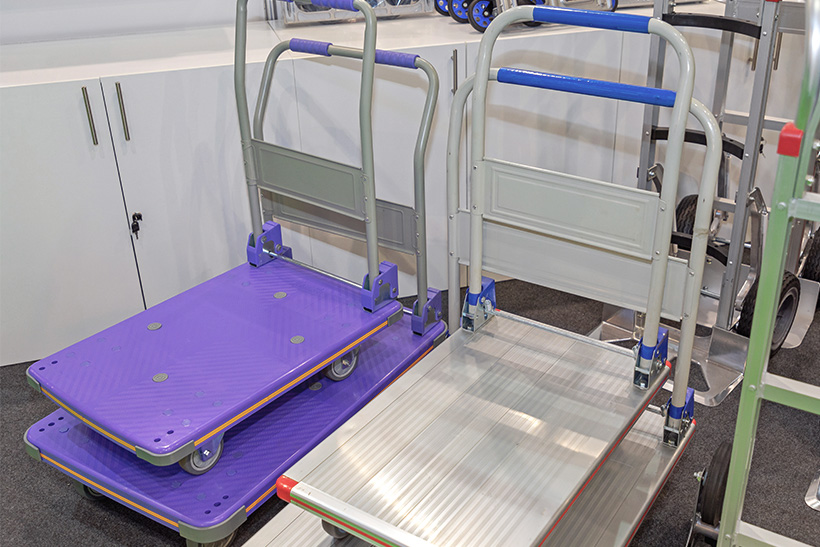 If you're moving anything that has cords, plugs, wires, secure them in place, otherwise, you may trip over those loose pieces and end up with injuries. The same goes for any other parts of furniture that could get loose, such as doors, drawers, etc. For example, if you're moving a dresser with drawers, use plastic wrap to wrap the entire piece and prevent drawers from falling out, or doors from opening.
Secure loose pieces in place
If you're moving appliances that have cords, make sure you secure them in place. Do the same things with any other loose pieces, including wires, plugs, etc. The reason to do so is to avoid tripping over them.
Use furniture blankets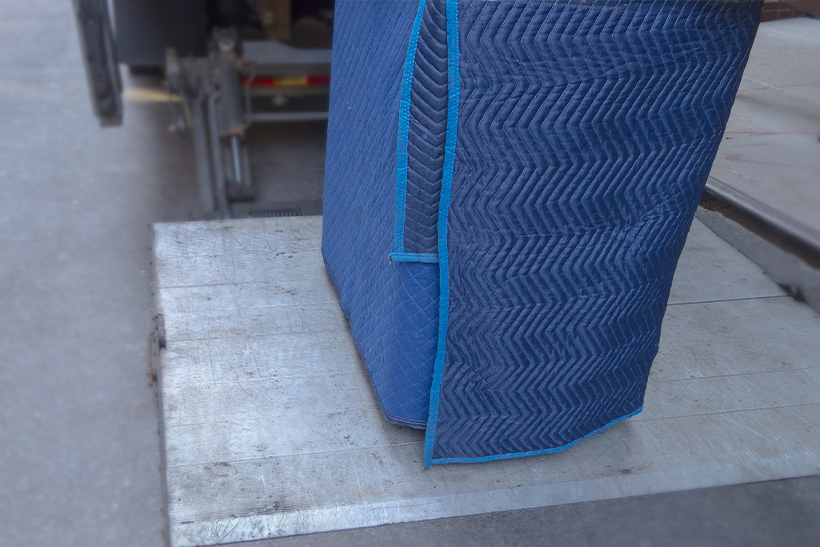 Furniture blankets are another way to make your relocation safer, so you should always use them when moving heavy or bulky items by a dolly. Your heavy appliances, large or fragile pieces of furniture, and other sensitive items should be wrapped with furniture blankets for maximum protection.
How to load your cargo
Now that you've got everything ready and secured, it's time to load your cargo onto a dolly. Firstly, tilt the dolly forward to create an angle that will allow you to slip the dolly under the item you want to move. After you manage to slip the front end of the dolly under your cargo, you should put the dolly back into its original position. While doing so, hold the item in place so it wouldn't slide off.
One step at a time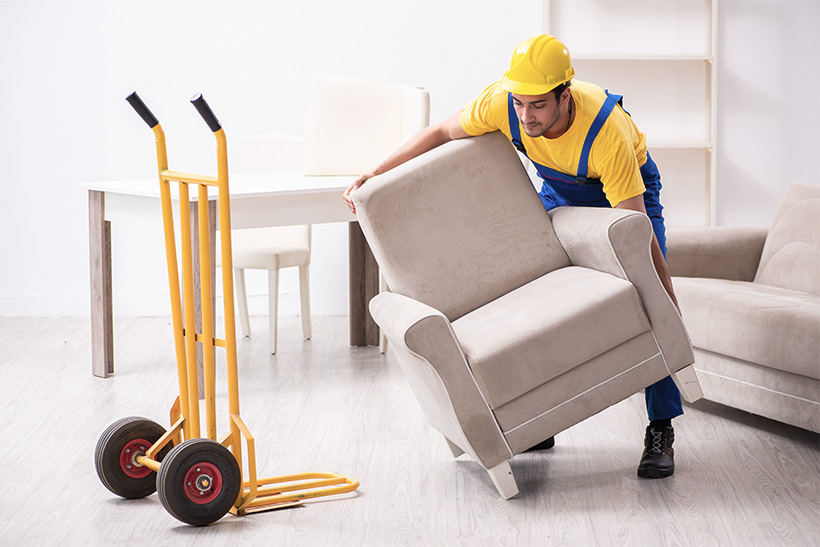 When moving and especially when dealing with extremely heavy items, you'll want to stay as cautious as possible. Progress slowly and take one step at a time – never rush when handling professional moving equipment. It's always better to take longer but accomplish it safely than to rush things and end up injured.
Stack like a pro
The basic rules of staking apply to your storage spaces, kitchen pantry, and the same rule applies to packing cargo on a dolly. The logic is simple, just stack the heaviest boxes on the bottom and lighter ones on top of them. The whole cargo should be balanced and without the risk of crushing lighter items under the weight of heavier ones.
Moving dollies are one of the most important things to have when performing a DIY move. They make relocation faster, more efficient, and safer. Follow the steps you've read in this text to safely use a moving dolly or hire professional movers to do it for you instead. The experienced moving crew will know the best practices for using dollies and they'll safely transport your household items to your new home, regardless of whether you're moving long-distance or to a new neighborhood. If you're still looking for a reliable and trustworthy mover, Movit Movit is at your service for commercial and residential moves. Reach out to chat about your relocation and we'll provide a free moving quote.