Once you get into the moving process, several things are considered priorities. After finding the reputable moving company, consider hiring them to do the packing as well. Most of the moving companies offer packing services. On the other hand, if you prefer to face this challenge by yourself, take some tips from Brooklyn moving services. Start by planning ahead and organizing your packing process. Focus on one room at the time to be able to track your progress. Once it gets to the packing kitchen, tips are a bit different than the other rooms.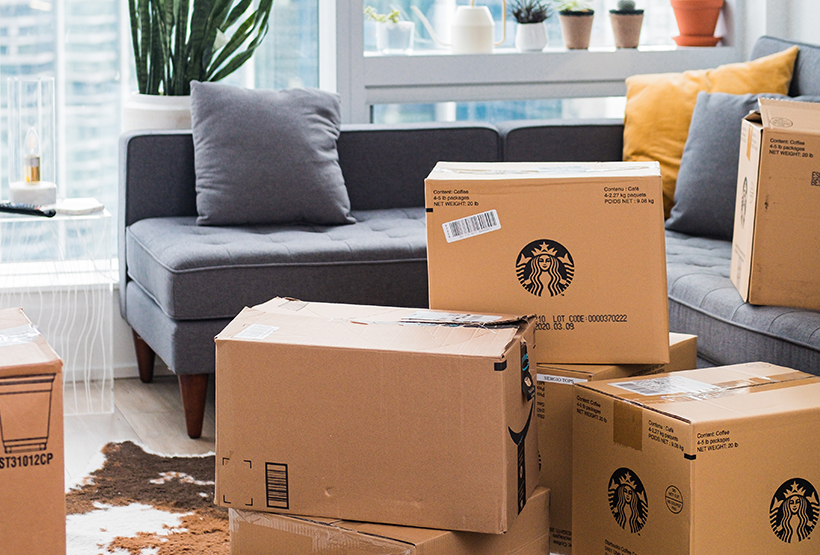 Packing a kitchen comes as a challenge because of all the fragile and oddly-shaped items. Follow these tips below to pack your kitchen like a pro:
1. Review your kitchen items
The first thing to do when packing is to declutter and get rid of all the items you don't need or use. This also includes those belongings that are no longer appealing to you. This might come especially difficult when it comes to the kitchen. But chances are if you never used an item that has been sitting on a shelf for years, then you will probably not use it in the future. Once you collect all the items from your household that you don't need, you can even earn a few dollars by selling it. A yard sale with random items is always fun. Another option is to give it away to a friend who might use it or donate to one of the many charities in New York.
2. Get the supplies
Before you start packing, go ahead and supply yourself with packaging materials. Start from the boxes of your choice. Those can be cardboard boxes which you can purchase online, or even get from a local grocery store free of charge. If you want your move to be as green as possible, rent environment-friendly boxes that are made of recycled plastic and bring them back once your move is done. Another material that you will need is bubble wrap to protect fragile items and packing paper for wrapping. Don't forget scissors and tape, and a marker to mark your boxes accordingly.
3. Separate necessary items
Once you start packing your kitchen, you want to make sure that you leave aside some of the items that will be needed in the process of moving. Those will depend on what is essential to you and it might be only a coffee maker if you are a person who eats out rather than spending time in the kitchen. Whatever your kitchen necessities might be, leave them last to be packed and separate a box for them. If you decide to pack the entire cutlery, you can also get some of the eco-friendly kits that can be reused later for picnics.
4. Packing certain kitchen items
Now that you got organized and only left with items that you will use in your new home, here are a few tips on how to pack certain items.
Packing plates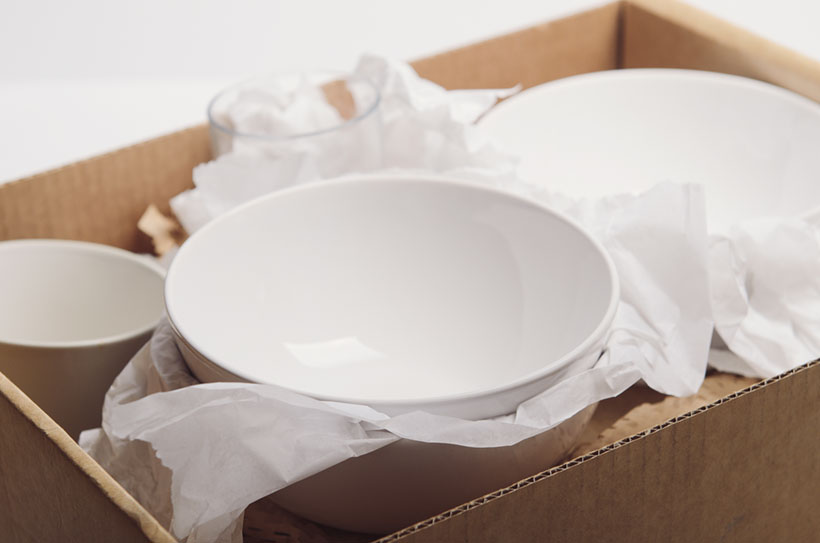 First, create a soft cushion by placing bubble wrap in the box. Use packing paper to wrap each plate individually. Separate every three plates by adding a layer of bubble wrap in between. If there is any space left in the box, fill the voids with either of the packaging materials. Don't leave any empty space, because plates might giggle and break during transit.
Packing appliances
Kitchen devices will fit the best in their original box. However, if you don't have them, just use the materials that you got. Make sure to wrap each one of them with packing paper, and tape them so that the paper wouldn't fall off. There will probably be a lot of free space left in the box, so add more paper to avoid leaving empty space. You can also save space and use some fabrics for this matter, like kitchen cloths or table runners.
Packing glass items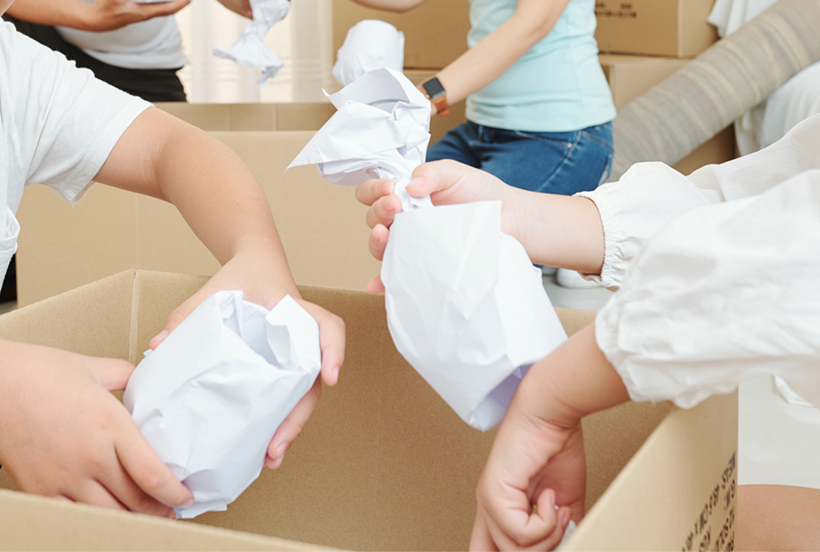 These are the most fragile items and many of them are oddly-shaped. For this reason, you need to pay some extra attention when packing glassware and make sure they are properly secured. Again, packing paper comes as the first layer of protection for carefully wrapping each glass item. Use dividers to separate glassware from each other. You can make them easily by using scissors and cutting the cardboard box into appropriate size. Glass will already be heavy so avoid putting anything inside of the glasses, even if there is space. The most important thing is to make the content of the box very tight to avoid jiggling. Since glass is so fragile, any movement could lead to breaking.
Packing pots and pans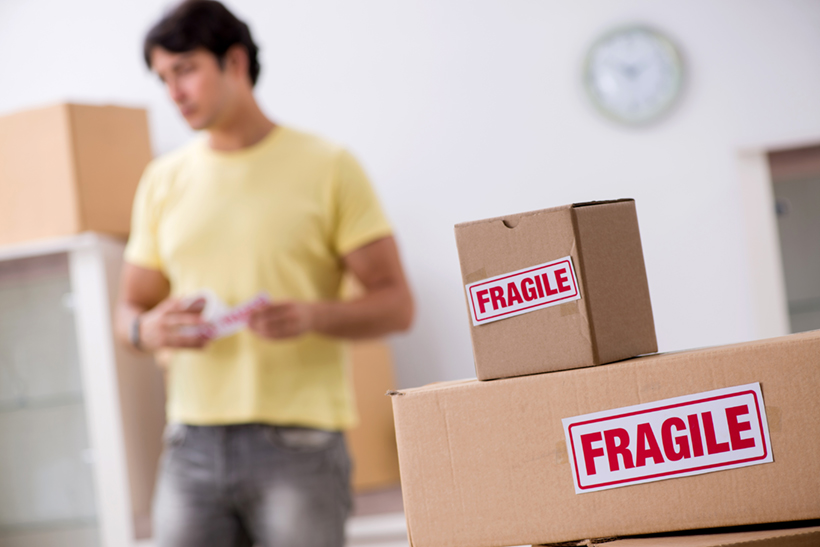 Unlike glassware, here you can use a larger item like a container for smaller ones. They will not get broken and can withstand some weight. Place smaller pots into larger ones and place them in a box. You can wrap them with the paper if you want to avoid potential scratches.
Packing food
Check the expiration dates of your canned food before you pack them. Smaller boxes will be more suitable because it can get too heavy if you use a large box and the weight adds up. If any containers are made of glass, like different spices, use a small box and wrap them with paper. There is a special bubble wrap suitable for gourmet food or you can use a cooler for perishables. Consider the length of your trip, because if you are moving long-distance, you might be better off by leaving those items behind.
Packing silverware
Here comes handy a material that is not so common−rubber band. Use a rubber band to keep all the silverware together. Separate them by type and wrap them tightly to avoid falling out of the stack.
Packing on your own can be a challenge, but it can be accomplished if organized well. When you get your moving quote, inquire about packing services as well. In some cases, the additional expense might pay off when you consider the amount of time needed for doing it yourself. Contact Movit moving company to get a moving quote and plan your budget in advance.